Chair's opening statement at the CHS Alliance General Assembly 2019
21 November 2019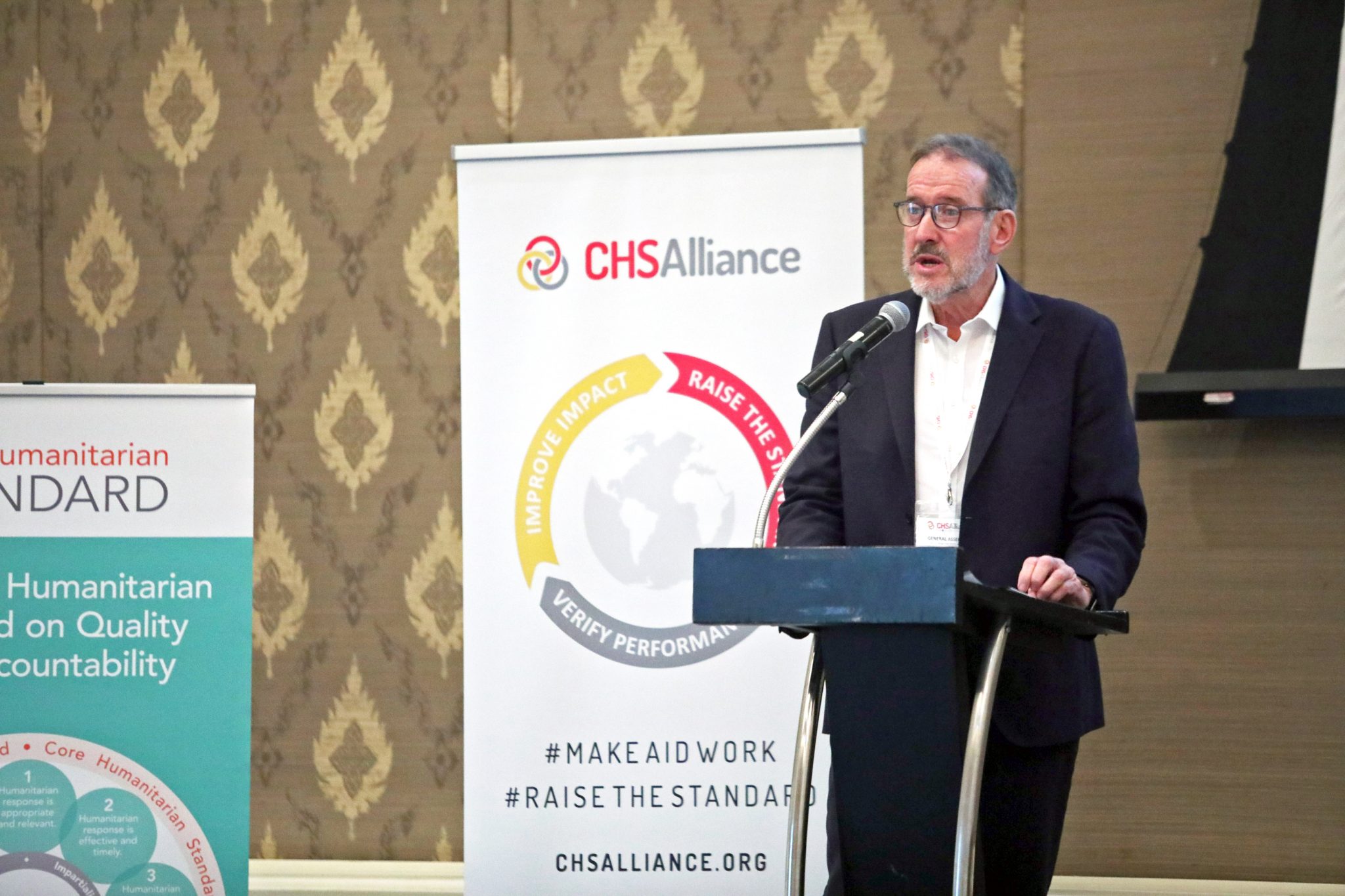 For those of you who I have not personally met, my name is Robert Tickner, and I am chair of the Board of the CHS Alliance. In that capacity, and on behalf of your dedicated board members and our Executive Director Tanya Wood, I am delighted to be opening this meeting of the third face to face CHS Alliance General Assembly here in Bangkok.
I am honoured and humbled to be your board chair having been originally invited to do so by the Board and to serve as an independent representative.
I would like to firstly welcome our deeply committed member organisations' representatives. You are of course the very heart and soul of our organisation. We appreciate you taking the time out of your busy schedules to be here to help strengthen our CHS movement and support the critical mission of the CHS Alliance.
Welcome also to our observers and invited partners, as well as organisations we hope, will soon join us as members.
I would also like to place on record my respect and appreciation for the work of my fellow board members. They have given their volunteer time generously and contributed great wisdom. Your board operates as a cohesive and safe space where all participants know they can speak freely and strongly in the best interests of the CHS Alliance and its important mission.
Looking around this room, I can see that many of us represent NGOs or civil society. Some are independent experts who come from communities that have themselves faced conflict or strife.
What brings us all together is our shared belief in the fundamental importance of ensuring we are accountable to the people we serve.
And we don't just believe in accountability at an abstract or theoretical level, we are committed to making sure it is at the very heart of our humanitarian and development action. We do this through continuously striving to apply the Nine Commitments of the Core Humanitarian Standard and advocating for others involved in delivering humanitarian aid and development programs to do the same.
Together, we form a global movement of 157 organisations leading the way in making aid work better for people affected by crisis.
In opening this milestone meeting, I would like to share some reflections about the significance of the timing of this gathering – which comes almost exactly 5 years after the Core Humanitarian Standard on Quality and Accountability was launched on a rainy day in Copenhagen in late 2014.
This new standard was the culmination of a year-long, multi-lingual consultation with over 1,000 individuals and organisations spanning the globe. It brought together and replaced the HAP and People in Aid standards and, as you know, formed the CHS Alliance by the merger of the two organizations.
The timing and location of our meeting today is also significant. In meeting in Bangkok your Board and Executive Director wanted to make it easier for our members based in the global south to be able to attend, and I'm delighted to see so many of you are here today.
Five years on, what progress have we made?
I think we can honestly say we have made great strides shown by some of the CHS Alliance's impressive achievements.
Today, we have more than 150 members from Africa, Asia, the Americas, Europe and Oceania. Six of our full members are global networks, and between them they have 220 affiliates.
And beyond the impressive numbers, we also have an engaged membership, who demonstrate their commitment to the CHS in a number of important ways, including verifying their performance or providing statements to show how their work aligns with the 9 commitments, and having Codes of Conduct prohibiting sexual exploitation and abuse.
Our verification scheme, with its different options for measuring performance – including self-assessment and certification – currently gives us very important data from more than 70 organisations. The Humanitarian Quality Assurance Initiative (HQAI) is the only organisation which currently provides the certification and independent verification of the CHS and I would like to welcome the ED of HQAI, Pierre Hauselmann, who is with us today.
The data from the verification scheme is being used to inform individual organisations about how well they are doing, and where they need to focus their efforts. It also gives us a valuable picture, based on direct evidence, of how well we are doing as a sector.
I also want to let you know that there has been no issue which has preoccupied the board to a greater extent than our work in reviewing the CHS verification scheme. As a board we heard the concerns of members about the need to review this scheme and we shared this concern. As a result, we commissioned KPMG Norway to conduct this important review. As you will be aware, the management response to the review was approved by the CHS Alliance Board and has been made available publicly on the website. We will discuss this further in tomorrow's strategy session, but for now, I want to mention the three propositions the CHS Alliance is pursuing:
A stronger communication and advocacy plan to encourage organisations to undertake a verification option, as well as lobbying for greater recognition of the CHS verification in donor processes. I will make reference to an important development in this regard in a moment.
Adapt the scheme to improve the complementarity of the different verification options, and
Improve the oversight of the scheme by establishing an expert Technical Advisory Group to continue to guide and ensure the Verification Scheme remains fit for purpose.
Returning now to the list of the CHS Alliance achievements, I want to make reference to the extent which we have spread knowledge of the CHS around the world.
You may be surprised to know that despite our limited resources more than 10,000 people have been trained on the Standard since 2015 by CHS Alliance trained trainers. We could do some much more if we were able to secure additional funding from donor governments.
The CHS has been translated into 27 languages. Importantly, last month, we published a plain language version of the commitments – making them easier to understand by a wider audience, including the people whom we serve. This is currently available in English but will soon be translated into 13 other languages.
We continue to invest substantial time and energy in ensuring the CHS remains visible and drivers change. The CHS is part of the Grand Bargain commitments and has been increasingly recognised by donors – both governmental and intergovernmental. There are encouraging discussions taking place to further connect the CHS to donors' partner capacity assessments and due diligence processes.
Danida and the UK's Disaster Emergency Committee continue to request CHS third-party verification as a condition for funding and membership. This year we were very pleased that the German government now recognises the CHS verification (all options including self-assessment) as part of the Partner Capacity Assessment process, and there is a growing interest by other donor agencies in taking this approach.
The reach of the CHS and harmonisation with other standards was increased in 2018 when it was incorporated into the Sphere standards handbook (and I would like to welcome to the Sphere Chair, Colin Rogers, who is with us today).
However, despite this progress, we are at a pivotal time for the CHS, and as a community face some major vulnerabilities and challenges as a sector.
As the recent safeguarding scandals demonstrated, we are far from where we need to be in protecting the people we serve from perpetrators who prey on vulnerable people. Our policies are not always translating into robust practices. Let me be very frank and uncompromisingly strong in my comments on the challenge here.
Paying lip service to the CHS within our organisations is not enough and we will – rightfully so – be judged on the reality, not the rhetoric. The only question is whether our organisational daily practice embodies accountability to the CHS and ultimately, the people affected by crisis?
This means that the CEOs and Boards of our member organisations must drive this outcome as a whole of organisation goal. Human resources departments, senior operational managers, staff and volunteers have a key role in ensuring that the CHS values are "lived" within our organisations. But without leadership from the top, we all know that deep and organisation-wide change will not happen.
We also need to be proactive within our individual organisations at management and board level to identify risks of non-compliance with the CHS and our professed accountability standards. We all know that the sector globally took a big hit in the recent sexual exploitation and abuse scandals. We constantly need to anticipate other risk areas where a failure could have catastrophic consequences.
In that regard, I want to particularly and directly remind you of the importance of all our member organisations upholding the highest standards of financial management and accountability, as well as embodying good governance principles in our administration. This message applies to all in the sector whether they follow the CHS or not.
A lapse of standards in these areas can have catastrophic consequences for non-government organisations and the people we serve. Annual clean audits and the confirmation that good governance principles are being applied are absolutely critical for every organisation working in humanitarian relief or development programs in my view. That includes all organisations from the smallest local NGOs, to the large international federated organisations and their membership – as I am sure we all agree.
I also want to challenge all of us to examine more closely the extent to which we are genuinely accountable to the people we serve. By way of example, you know from the information you have received from the CHS Alliance – that we have been working in partnership with Ground Truth Solutions to collect and analyse feedback from people in Chad to support the Humanitarian Country Team adapt their programs based on this feedback. This Strengthening Accountability Project is funded by the Swedish government. Some of the survey results are quite confronting with two-thirds of the people surveyed not knowing how to go about making a complaint against an agency. The surveys also reveal that only 16% of the people surveyed say they know what behaviours to expect from humanitarian workers.
I commend the commitment to openness and transparency of all the parties who allowed these surveys to happen because they benefit us all to better understand the dimensions of the challenges, we, in giving effect to changes at the coal face of aid and development.
Clearly this shows that we are falling short of meeting our commitments to the CHS. We need the people we are serving to clearly understand the behaviour they can expect and know their options when this isn't met. We have much more work to do in this area.
I also want to encourage you at this General Assembly to think about the really big picture in your debates around the effectiveness of humanitarian and development work globally, and to imagine a better world and how we get there.
We are fortunate tomorrow that Jeremy Kondyk will join us by video link, from the Centre for Global Development. Back in August, I read an article from his Rethinking the Humanitarian Business Model paper – and I want to quote from the opening paragraph because it quite properly challenges our thinking.
The article suggested that "the world's humanitarian architecture is growing outdated. Relief programs are most effective when they are integrated, locally owned, and demand-driven. But humanitarian action in the 21st Century remains constrained by a 20th Century model: siloed, supply-driven, and centred on the individual mandates and sectors of major international aid agencies. This makes aid less effective and less responsive than it could be."
I know that many of you in this room would share the harshness of this critique and even those who do not, would share the dream of building greater collaboration between our agencies and the empowerment of local people and community-based organisations. In this context, a continuing commitment to localisation is essential if empowerment of local populations is ever to be seriously meaningful. I also believe that all of us must work together and with our donors to find further mechanisms and strategies to advance these goals. If we are successful in our core business of the CHS Alliance in building global commitment to make aid more accountable through our common standard of the CHS – we can shape the future of aid.
There is one final substantive issue I must raise – and in many ways, it is one of the bedrocks of our future – and that is to seek greater levels of commitment from a wider range of government donors to support the work of the CHS Alliance. I place on record our appreciation to our current donor governments – Australia, Denmark, Germany, Luxembourg, Sweden and Switzerland – and the financial contributions they have made.
However, as members of the Alliance – we need to work harder together, to make sure the following message is heard clearly by all our Governments.
The CHS Alliance is playing an important role in helping build global accountability in humanitarian and development programs but we need your further support. We are a relatively small organisation (with just 13 staff members), well managed, with high standards of governance, financial management and effectiveness. Our track record shows that we are making a real difference but we urge you to give us your backing and your support through firstly, supporting us with funding and secondly by recognising the CHS verification in your partner capacity assessment, in the way the Government of Germany has done. By doing this you deliver a real incentive for CHS compliance and engagement.
In my country of Australia over recent decades with cross-party support, funding to Australian NGOs has been absolutely conditional on a commitment by aid organisations to the Code of Conduct of the sector representative body (The Australian Council for Overseas Aid), and there is universal support for this in the Australian aid sector. I am utterly convinced that the ACFID Code of Conduct has taken Australian aid and development organisations to a higher and more accountable level of aid delivery.
The same approach could be taken by donor governments in relation to the Core Humanitarian Standard. For me, therefore, there is nothing new or radical about the German Government approach. It is simply common sense and I urge all donor governments to adapt their approach or to follow the Australian approach in relation to the CHS. Such initiatives have the capacity to lift the accountability of aid and development work globally.
Now – for the General Assembly – we shift to the business necessary to ensure our governance and strategy are in robust shape for the coming years.
Over the next day and a half, three critical discussions and decisions will be taking place. Firstly, around our core strategy where the input and creative ideas of our member organisations will help the board in shaping the final form of our strategic plan. Secondly, we will review our statutes to ensure our governance is fit for purpose and in this regard, we will look forward to welcoming our new board members who will be entrusted with helping us deliver these processes and direction. In that regard, it has been wonderful to see so much global interest in joining the Board from so many experienced humanitarian and development leaders.
I am personally really looking forward to the engaging discussion and know that we will be leaving Bangkok having taken onboard your shared wisdom to guide us as we finalise our future direction.
While sadly the CHS Alliance cannot alleviate the causes of conflict, poverty or natural disaster, we can help build a world where rights and dignity of people and communities affected by these upheavals are respected. A world where people affected can hold the agencies assisting them to account.
In these difficult global times, I think we need to remain optimists despite the great challenges we face Including of course the need to respond to the global threat of climate change. We must always remember that, despite the challenges the planet still faces, in the lifetimes of most of us here, there have been huge positive changes in the world that were once never thought possible. For example, we have seen a transformation in much of the world in respecting the human rights of women and in overcoming global poverty and in many other areas. Apartheid has ended, the Berlin Wall has fallen, and we have peace in Northern Island. Change is possible but it can only be achieved if the people of the world keep believing in and driving the commitment to a more just and peaceful world. I know I speak for all of you when I say that we stand with them.
Thank you for your commitment to the CHS Alliance and in making your contribution to building a better world for the people we serve.
Thank you so much and I wish you well in your deliberations.
Robert Tickner